Join us for Lenten Mid-Week Services at Noon and 7:00 p.m.
Our Lenten Sermon Series: LORD, LET ME BE AN INSTRUMENT
Lenten Pilgrimage with Francis of Assisi
WEDNESDAYS March 6, 13, 20, 27, April 3, 10
(Services at 12 Noon & 7 p.m.)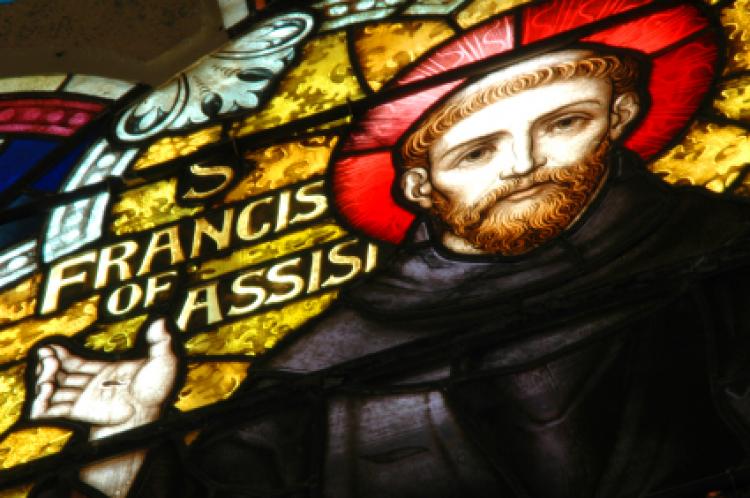 ST. FRANCIS WILL BE OUR GUIDE through the 2019 mid-week Lenten services. We will listen as the life and ministry of Francis of Assisi point us toward our Lord's saving work. The meditations listed below will rely less on the study of a Biblical text and rely more on reflecting on how God may speak to us through the way Francis lived his faith. The simplicity in which Francis found peace provides a striking contrast to frenetic messages barked in our ever-adrift culture. The destination of this Lenten journey is a deeper spiritual life.
March 6: Ash Wednesday: A New Direction
March 13: Dreams and Visions
March 20: Gifts from the Man who Had Nothing
March 27: Living in the Material World
April 3: Talk to the Animals, or, Was Francis a Tree-Hugger?
April 10: Preaching to the Sultan: What about Islam?
April 18: Maundy Thursday: A Simple Diet
April 19: Good Friday: The Wounded Healer
FRANCIS OF ASSISI (1182 – 1226) was the son of a wealthy cloth merchant in the Umbrian region of Italy.  After great success in sales and miserable failure as a knight, Francis dedicated himself to the imitation of Jesus.  Embracing voluntary poverty, barefoot and wearing a coarse tunic, Francis wandered the countryside and towns preaching repentance and love.  When followers began to gather, Francis sought and received approval from the Pope for the Friars Minor; a simple brotherhood dedicated to poverty, chastity, and itinerant preaching.  Humble, gentle, and sincere, Francis was canonized (declared a saint) in 1228, only two years after his death.  In the 20th century he was adopted as the patron saint of all Italy.
What is the tradition of Ash Wednesay?
ASHES: Using ashes as a sign of repentance is an ancient practice, often mentioned in the Bible (e.g., Jonah 3:5-9; Job 42:6; Jeremiah 6:26; Matthew 11:21). The early Christians adopted the use of ashes from Jewish practice as an external mark of penitence. Ashes symbolize several aspects of our human existence:
Ashes remind us that God condemns sin. God said to Adam, "You are dust and to dust you shall return" (Gen.3:19).
Ashes symbolize our need to repent, confess our sins, and return to God.
Ashes suggest cleansing and renewal. In ancient times, ashes were used in the absence of soap. On Ash Wednesday ashes are a penitential substitute for water as a reminder of our Baptism. 
Ashes remind us of the brevity of this life.  It is said as we are buried: "earth to earth, ashes to ashes, dust to dust."
Holy Week – Easter 2019
PALM SUNDAY – April 14
Worship Services at 8:30 & 11:00 a.m.
MAUNDY THURSDAY – April 18
Services at Noon and 7:00 p.m.
GOOD FRIDAY – April 19
Tennebrea Services at Noon and 7:00 p.m.
EASTER VIGIL – STATIONS OF THE CROSS
– April 20 12:00 – 2:00 p.m.
Organized and led by Messiah's Sr. Youth
RESURRECTION OF OUR LORD:  EASTER SUNDAY – April 21
Services at 8:30 and 11:00 a.m.
Come enjoy Easter Breakfast in the Parish Hall from 9:00 – 11:00 a.m.
(Fundraiser for Sr. Youth)